Welcome to Artland: Drawing with Collage
Using memory to make drawings of familiar objects with an imaginary twist of cut paper collages.
Children will tap into their imagination and work with colour paper, magazines images, glue and pins to create collage drawings. Kids will use their memory as a tool to guide and inspire cut forms then assemble the shapes into a recognisable drawn form.
Inspiration can be drawn from familiar objects e.g. iPod, phone, cartoon characters, computer imagery, favourite toy, books, animals; draw from the every day visual world – look at everyday objects, dressing gown, plant, view from window, fruit, toiletries; use photographs to inspire a memory - family holiday, favourite place, pet, bike, reference books, website for pictures you warm to. Throughout the workshop kids will be encouraged to use their imagination to find an inner character of the work.
Materials: Card, Glue, coloured paper, magazines, scissors, pins, blue tack
Time Frame: one hour
Workshop Structure:
15 minutes set up (prior to class)
10 minutes Introduction and demonstration
25 minutes constructing collage drawings
10 minutes conclude class, review works
15 minutes tidy up (post class)
Presented by Susie Williams
(Ages 11 - 14)
About Susie Williams: Completed 2008 Fine Arts Degree (honours) with national Art school, Darlinghurst (Majoring in Drawing and Painting, minor in Sculpture). Passionate about colour, line and form, Susie creates drawn wall works in collage that harmonise with architectural space and stimulate the viewer's perception. Susie's work uses the symbol of the horse to explore complex ideas of space, history, myth, movement, memory and feeling.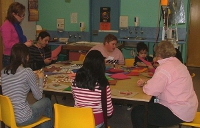 more photos